#16
ONLINE
Posted March 15, 2012 - 07:31 AM
, No wonder I've never had good luck with mine I bet I only have about 40-50 lb total

---
#17
OFFLINE
Posted March 15, 2012 - 08:24 AM
Alc, is your disk a Brinley ? if so what model (or size of the disk itself) ? Also did you clean up the nicks and sharpen the disk blades ?

---
#18
ONLINE
Posted March 15, 2012 - 12:32 PM
Glad you're getting some results, how's the tractor handling it?

Well, the tractor I am using is the MF12 I rescued from the dump. Engine-wise, it is using a 13-15hp (I've seen the engine rated both ways--It is a 420cc displacement engine) Honda clone. It had most of the sleeve hitch already on it, and I found the rest when I bought another tractor. I added fluid to the front tires because it began handling poorly when the plow was lifted. The rear wheels were freebies from a neighbor. They are more aggressive than turf tires, but are less agressive than a studded ATV tire, and are only air filled. I have no additional weight on the tractor except my own weight. It handles the disc well, even with the extra 150 lbs of weight. One issue is that my garden is not very big, about 60 ft x 25 ft. and is bounded by fences on three sides. Some extra speed really helps, but with the hydro it is hard to get a consistent speed. The implement lift was ok when it was just the disc plus the first 55 extra lbs. I didn't even bother to try once I added the extra 90 lbs. I am able to be so precise about the weight because these are weight plates I have scavenged from someone else's weight lifting set over the years.
---
#19
ONLINE
Posted March 15, 2012 - 12:33 PM
Here is a shot of the disc and the depth it is cutting. About 2-3 inches.
Edited by HowardsMF155, March 16, 2012 - 12:16 PM.
---
#20
ONLINE
Posted March 16, 2012 - 12:24 PM
Here are two shots of the soil after running at different speeds. The first is while moving at a good clip, I'd estimate 5+ MPH. The soil is nicely fluffed and the individual tracks are not visible.
The other shot is what occurred when I slowed to a stop. You can see that individual disc tracks now show up and the soil is not "fluffy" looking.
Edited by HowardsMF155, March 16, 2012 - 12:26 PM.
---
#21
OFFLINE
Posted March 16, 2012 - 07:38 PM
Howard, That is a relatively good depth for the size of the disk itself on the first pass, Thanks for the pic's, i can see it now, close up the gangs untill the center disks almost touch so you don't end up with the middle ridge, the higher speed really throws the clods and breaks them up but in a small garden the high speed can not be achieved so a few more passes will do. the disk is to Rough In the garden after plowing so it can be finished up with a Spike Teeth or Spring Tine harrows, or as a cultrivator between the rows and/or light tillage of the garden.
With your hard loam/sandy soil i would go just a little more aggressive with the cut, much like a 2 bottem plow the disk cuts are to overlap each other a little, the individual disc tracks are normal for a disk and after the first cut, after a few runs the clods will be cut down. Overlap each pass by one disk gang to keep from throwing all the soil to the edge of the garden and criss cross the rows.
Your doing great Howard, the disk is tilling it up, a few more passes and it will really fluff it up.

HowardsMF155 said thank you
---
#22
OFFLINE
Posted March 16, 2012 - 07:40 PM
I am no expert but here it goes. As for the depth, how deep did you plow? The disc is not designed to cut ground, its designed to make big clumps into little clumps. It takes alot of work with these little ones to do this. From the looks of your first pic, the disc is cutting down to where the plow pan is. Your soil looks too wet to me also. I usually give it a few days between plowing and discing, and discing and discing. I know down here I have to give it about a week after plowing before my soil is dry enough to really break it up with the disc. After the first discing, the ground should look pretty wet since the big clumps have broken and were not completely dry. I then give it a few days to let the freshly disced ground dry out and then hit it again. I repeat this until I am happy with soil. It takes about a full month before i am happy with what I have.
Here is a couple of vids from last year. I put together a sears disc and a brinly disc to make a double gang.
http://s415.photobuc...tractor2011.mp4
http://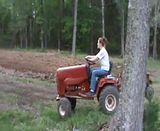 Edited by coldone, March 16, 2012 - 07:54 PM.
HowardsMF155 and trowel have said thanks
---
#23
ONLINE
Posted March 16, 2012 - 08:54 PM
Hey coldone.
Yes, I'm sure the ground was too wet. I don't know about you, but we've been having rain every few days here. I was hoping that doing some discing would promote the lower layers to dry out before the next rain this weekend. I wanted to plow it again so I could start planting some peas and potatoes.

---
#24
OFFLINE
Posted March 16, 2012 - 09:09 PM
Not a single drop of rain this week but they are calling for it tonight and tomorrow. Even if you arent dry enough to get the soil the way you want, you are still getting valuable set time! I was just talking with the wife and we will be starting on the garden within the next month or so. I am looking so forward to plowing, for some reason i just love doing that.

---
---