welding tips
Started by
Ryan313
,
Dec 17, 2011 10:19 AM
#16
OFFLINE
Posted December 18, 2011 - 02:23 PM
Here's a picture that shows the backside of some penetration examples on a but weld.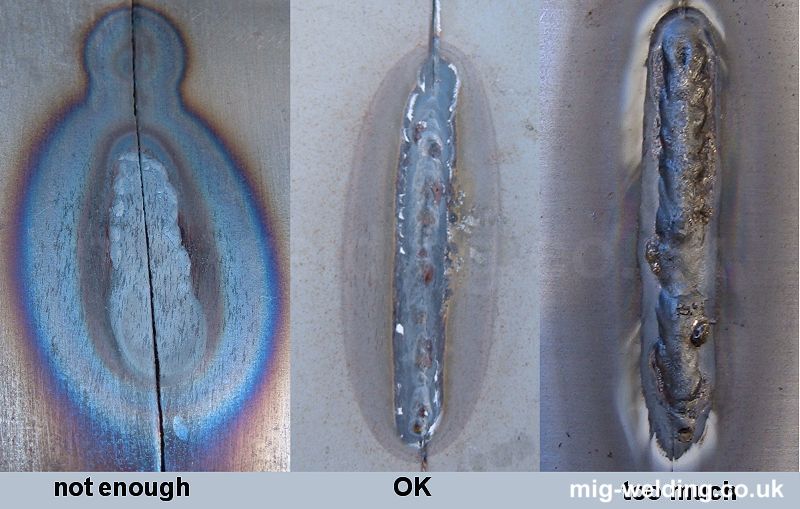 Texas Deere and Horse and KennyP have said thanks
---
#17
ONLINE
Posted December 18, 2011 - 02:27 PM
You can see by the center picture that the base metal actually fused together, the first one, you still see a gap in the 2 pieces of metal. The 3rd shows they almost burnt thru the base metal. Thanks for the photo's Tucker..

---
#18
OFFLINE
Posted December 18, 2011 - 02:41 PM
oh ok now i know what people are talking about when they say penetration, i thought it meant that it... yea i was confused. i cant look at the back of mine to see if its like that, ill take some pics of the next thing i plan to weld after im done making it.

---
#19
OFFLINE
Posted December 18, 2011 - 04:39 PM
The back side penatration is ok for thin stuff, anything thicker than ,say .25" should be prepped fiesta and back welded then fillets welded on the face. That is later as you become a certified pro, for now, keep doing what your doing and practice some vertical. Try not to do spot type vertical with a MIG, as it is not a recommended procedure and will not allow for good penetration, you need that deposition puddle to meld the metals together .

KennyP and Ryan313 have said thanks
---
---